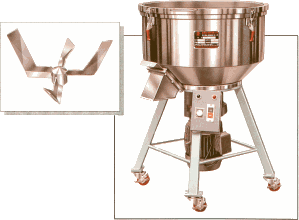 Features°G

This Mixer is applicable mixing of the color plastic material in granular form, fodder, foods and other material.
The mixing bucket is specially designed and made of 304 stainless steel and the inside of the bucket is very smooth.
This Mixer is provided with safety device to protect the operators.
The mixing time can be set from 0-12 minutes for automatic stop.
Safety and time saving.
Specifications
POWER (HP)
3HP
CAPACITY(kg)
50kg
WEIGHT(kg)
120kg
MACHINE SIZE(L°—W°—H)(mm)
750°—750°—1250mm